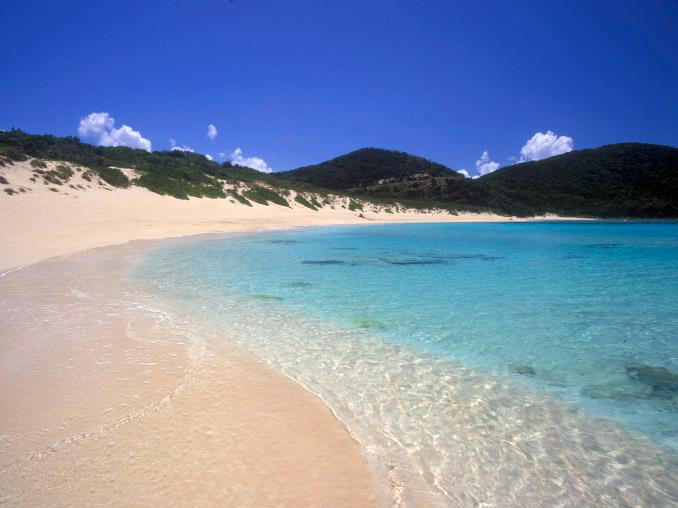 It seems like no one talks about romantic beach escapes anymore. Am I the only romantic left in the world? I hope not! Let me give you some tips on finding two special beaches on the idyllic island of Virgin Gorda so you and your sweetheart can enjoy some delightful hours there. Add in some sunblock and the rays of the B.V.I. sun ~ best before noon or after 3 P.M. ~ and you'll be good to go! If you need advice on what else to bring to the beach in Virgin Gorda, you can read my detailed blog on that.
If you'd like to be alone on a pristine beach with panoramic views toward Tortola, try POND BAY BEACH. Because it is not easily accessible by the general public, you're likely to be the only ones there. Isn't that the idea? If you're staying at nearby A Dream Come True Villa, you can kayak over there in two minutes. Otherwise, park by the government sign at the road and follow the trail to the beach. It's located at the mid-point of the island, the intersection where the mountain road starts up the hill and Plum Tree Bay Road splits off towards Nail Bay. You can also turn into the sign for SAVANNAH BAY BEACH a couple of minutes down the road, park there, and then follow a trail for 10 minutes to Pond Bay Beach. You'll find nothing at this beach except yourselves! There are some young coconut palms for shade. You can float for hours in the sea. This is a lovely strand of beach for you to walk hand-in-hand. Be sure to carry out any trash you generate since there are no trash receptacles.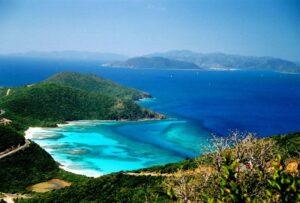 Another great location to visit with your special someone is LITTLE TRUNK BAY BEACH. This beach is located in the southern part of the island. Not many folks know about it, and to access it, first park at the SPRING BAY NATIONAL PARK parking area (see my post on this beach). When you arrive at the end of the trail and you are at the beach, there will be an outdoor grill and picnic table area to your right. Turn right and go past this. Keep walking and on your left you'll see a small "pocket beach" nestled in large boulders. Look to the right: walk between two large rocks (a tight fit). You'll have to hold on to the sides of the rocks to get through as you balance your feet on a rock! Soon you'll be on an easy, level trail that leads to breathtaking LITTLE TRUNK BAY BEACH. To enter the water here, be careful to line up with the biggest boulder! There is a lot of coral along this coastline. You'll find several areas where you can cuddle up amongst the boulders and relax, watching the surf come into the shore. Snorkeling is fine here, but the sea can get rough if the conditions are right. No beach safety flags here nor lifeguards. This is one of my favorite places on Earth!