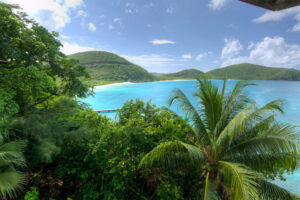 Once upon a time, I flew on a whim into Virgin Gorda's tiny airport along the sapphire sea. The year was 1980.
My husband and I took advantage of the opportunity to leave our three kids in Humaco, Puerto Rico. Relatives offered to babysit for a few days so we could travel anywhere in the Caribbean.
Luck took us to this unspoiled island where there were hardly any paved roads nor electricity. It was rustic with a capital "R."
I dropped a casserole dish the night before we left and severed an artery in my ankle, so I arrived with stitches and the doctor's order not to swim. For three days I accompanied my husband to the most gorgeous and deserted beaches I'd ever seen – with a knee sock on one leg!
BEWITCHED!
Nevertheless, we were absolutely bewitched by Savannah Bay, the first beach we ever viewed on this precious island. As the years passed, we frequently vacationed in Virgin Gorda with our children. They grew up loving everything about the Virgin Gorda people, British Virgin Island customs, the beaches, and the flora and fauna.
We searched many years for a building lot we could afford. In 1998 we started building our island home overlooking Savannah and Pond Bays. It was completed in 2000, and the kids named it: "A Dream Come True."
One of the many wonderful things about A Dream Come True Villa is I can kayak to Savannah Bay Beach from my villa's oceanfront location and still be the only one there 34 years after it bedazzled me!
And our kids? One daughter spent her honeymoon at A Dream Come True, and our son was married at beautiful Spring Bay National Park. The pink and purple sunset lit the sky behind the huge boulders and turquoise waters. We now have 7 grandkids under age 8 that love Virgin Gorda, too!
A DREAM COME TRUE VILLA RENTALS
For the past 15 years, I have devoted myself to renting A Dream Come True Villa to guests and acting as their "Virgin Gorda Concierge" in advance of their stay. We have been very successful, earning all 5-star reviews. My goal is for guests to have their best vacation ever!
In the process of answering guests' questions and solving their problems through the years, I've become a Virgin Gorda expert. In this blog, "Insider's Guide to Virgin Gorda," I'd like to share my expertise with you. Feel free to ask me questions and let me solve your problems. I hope you find this BLOG helpful when planning your trip to paradise.
For those who have never been to Virgin Gorda, first-time guests always tell me that they are forever spoiled and never want to vacation anywhere else again!