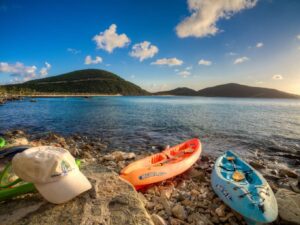 Snorkeling in the turquoise waters off every beach on Virgin Gorda will reward you with sightings of colorful fish, sea fan gardens, and a variety of hard and soft corals. For the best snorkeling on VG, my vote is Spring Bay National Park, which is located on the southern tip of the island. Look for the green sign on the right side of the road before you reach The Baths. There is ample free parking before you walk the easy, 5-minute trail to the beach.
Your first view of Spring Bay is one of huge boulders all around you. You might think you're on a movie set; it's that perfect and beautiful! It's fun to take time to examine the rounded shapes carved into these massive granite rocks by the sea. Looking for a great place to take a family photo? Some boulders have lots of holes where each of you can nestle.
Go to to Spring Bay not only for fantastic snorkeling, but also for the relaxed, uncrowded beach experience you crave. Bring along your beach chair and book.
There are two sides to Spring Bay Beach. If entering the sea straight ahead from the entrance, the surf can be tricky if there is any surge. (ALWAYS follow the colored-flag warning system and definitely stay out of the water if the red or yellow warning flags are flying.) You'll be snorkeling amongst submerged boulders.
Turn the corner and to the left the beach continues, but be careful entering the water here due to coral along the edge of the sand. Enter the water by the large boulder.
This part of Spring Bay is wide open. The best snorkeling is along the left where the submerged boulders form a wall. I routinely see octopus, parrotfish, large groups of blue tangs, angelfish, blue wrasses, sergeant majors, and an occasional sea turtle.
In the area where you first enter Spring Bay, there is a swing set for kids, and also two picnic tables. This gorgeous beach is rarely crowded except EVERY Thursday when Little Dix Resort brings their guests for their cookout from 10-2 pm. Plan your visit accordingly and enjoy the best snorkeling and this absolute treasure of a beach!