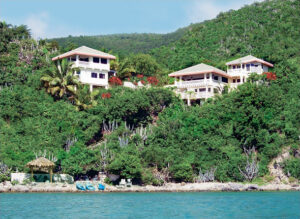 Between Thanksgiving, Black Friday, Hanukkah, Christmas, and other seasonal holidays, folks forget to plan for a winter vacation until February or March. That can be a mistake. Think about the benefits of a January vacation and the opportunity it offers to reflect on 2014 and recharge yourself for 2015. January seems to go better with a getaway!
1. Winter airfares are often the lowest in January. Right now is the best time to search for a January airfare for a Caribbean vacation because airlines realize demand is less right after the December holidays.
2. Non-stop flights are available to St. Thomas, U.S.V.I. from January to March from many more U.S. destinations than in you'll find in low season.
3. For January, Southwest Airlines has added San Juan to its destinations from many U.S. cities. Jet Blue has many non-stop flights to San Juan.
4.  It sure seems like some of the worst winter weather in the U.S. occurs in January. Get out of town to where it is always warm and sunny!
5. You can depend weather in the high 70's to 80's every day in Virgin Gorda in January. Not so in Florida! Make some new friends in Virgin Gorda!
6. Lots of folks deal with the effects of Seasonal Affective Disorder (SAD) due to lack of sunshine, shorter days, and not enough color in their lives once winter arrives. Instead of gray, gray, gray, they need to see COLOR! Come swim in turquoise seas, relax on white talcum powder beaches, and soak in the visual beauty of vivid pink and purple bougainvillea, red hibiscus, white oleander and blue plumbago. A Dream Come True Villa has more than 20 flowering plants and shrubs!
7. Many vacation properties have January specials. Come to A Dream Come True Villa, a vacation villa for rent in Virgin Gorda, and let us pamper you with a 25% discount off our Winter Rates from January 4 – February 7, 2015!
8. Staying at a private villa with 8 or 10 guests is an economical way to stretch your vacation dollars in January, and you'll love the abundant privacy a villa affords. Look for a villa with fabulous ocean views!